You access the 35 rooms and suites from the white lacquered wooden walkways. The Deluxe and Privilege rooms overlook private gardens or terraces. The vast suites offer spectacular views of the bay. For families, some rooms are interconnecting. You unpack your bags in a large mahogany wood dressing. All the furniture pieces have been custom-designed. Each room is unique and thoughtfully designed.
It is a serene and minimalist 35m² room. It directly overlooks the garden or has a private terrace for those on the upper floor. A desk is provided in the small lounge if one wishes to draw, read a book or work remotely. In the bathrooms, natural light blends with pink marbles through geometric stained-glass windows. Most rooms have a bathtub.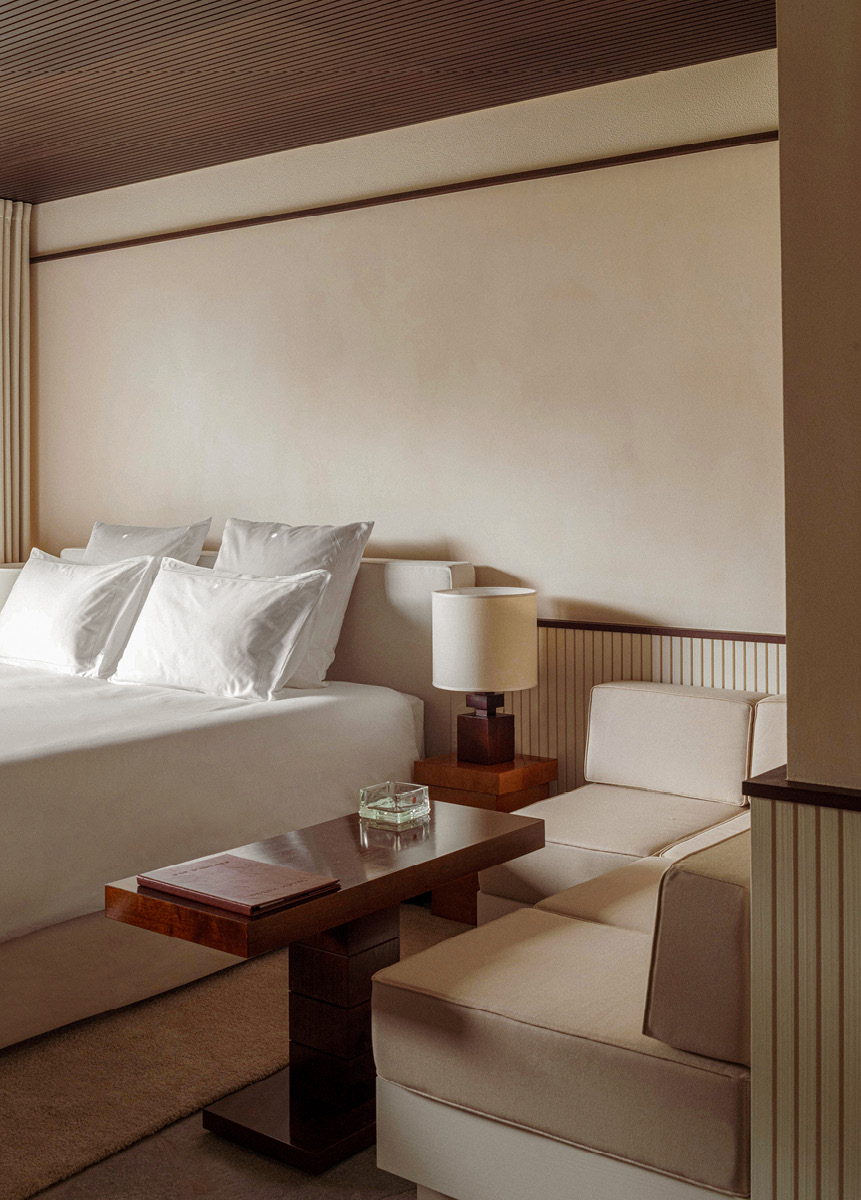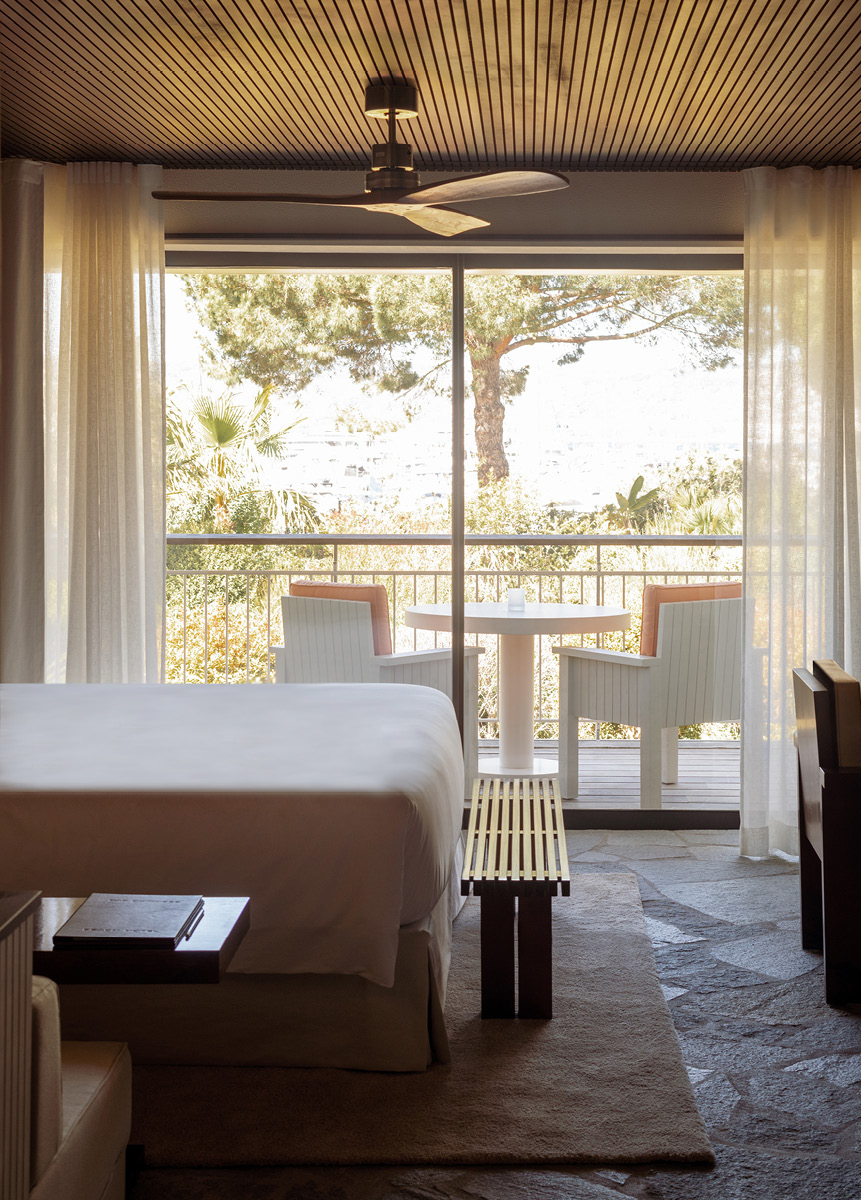 Privilege Room with sea view
This is a comfortable room of over 36m². It features a large dressing area for storing your belongings, making it ideal for longer stays. For rooms on the ground floor, a small private garden can be accessed through a gate, where you can relax as if in an outdoor lounge. This is the beginning of your journey. Welcome to the place where the sweetness of life begins.
This is a large room of 36m² with the bay of Antibes in the background. In the foreground, you can see tropical vegetation, while in the background, there is a spectacular view of the Mediterranean, the water and the boats. The private terrace allows you to prolong your afternoon rest in the privacy of comfortable sun loungers. It features a bathtub and a shower.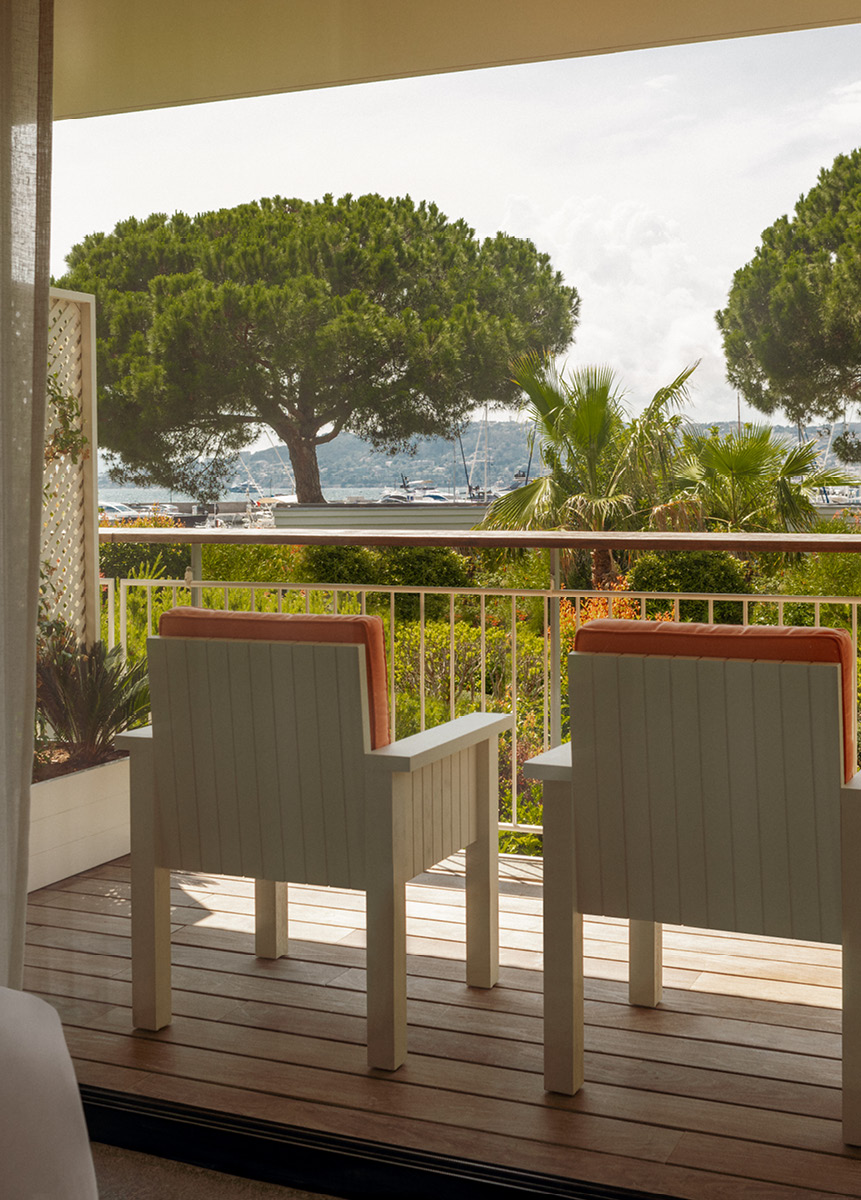 The suites, measuring over 50 sqm, offer breathtaking views of the landscape. The bathrooms are equipped with large bathtubs or rainfall showers. They have a large tree-lined terrace or a garden that extends from the bedroom. You can dream away on comfortable sun loungers. Views of the bay of Antibes stretch out infinitely.
The hotels iconic room. Sunny and exhilarating. A vast suite of 66 sqm with a terrace, suspended above the water. Spectacular views of the sea can be enjoyed from every part of the room. From the round jacuzzi bathtub in the bathroom, you can observe the boats sailing in the distance.